LOOKING FOR PROFESSSIONAL PRE WEDDING PHOTOGRAPHER IN MUMBAI?
Innfinites Photography is one of the best service provider for Pre Wedding Photo-shoot & Pre Wedding photographers In Mumbai.
Get Special Discount Offers
Just check out our Pre wedding photoshoot gallery.
Best Pre wedding Photographer in Mumbai
Innfinites Photography company has team of best pre wedding photographers in Mumbai for your memorable pre wedding shoot. Pre wedding photography has now become a trend and almost every couple is now going for pre wedding shoot. Our Pre wedding photographers shows there patience skills as it requires special poses and special editing. 
We provide both pre wedding photo shoot in Mumbai & Pre wedding video shoot in Mumbai | India. Pre wedding photo shoot in Mumbai is creating a new benchmark in the world of photography market. So if you want to have a unique, memorable and professional pre wedding photoshoot, We Innfinites Photography will send best pre wedding photographers in Mumbai in terms of services and commitments.
Our one of the best Pre Wedding Photography in Mumbai Expertise in.
Clients Handling 
Capturing Eye Catching Photographs 
Editing & Retouching
On time delivery   
PRE WEDDING PHOTOGRAPHY & CINEMATOGRAPHY
Pre Wedding Photography Locations
Our Pre wedding Photo Studio
What makes us "No 1 Pre Wedding Photographers In Mumbai"
Why We are considered one of the best Pre Wedding Photography company Across Mumbai, thane, vashi, navi mumbai?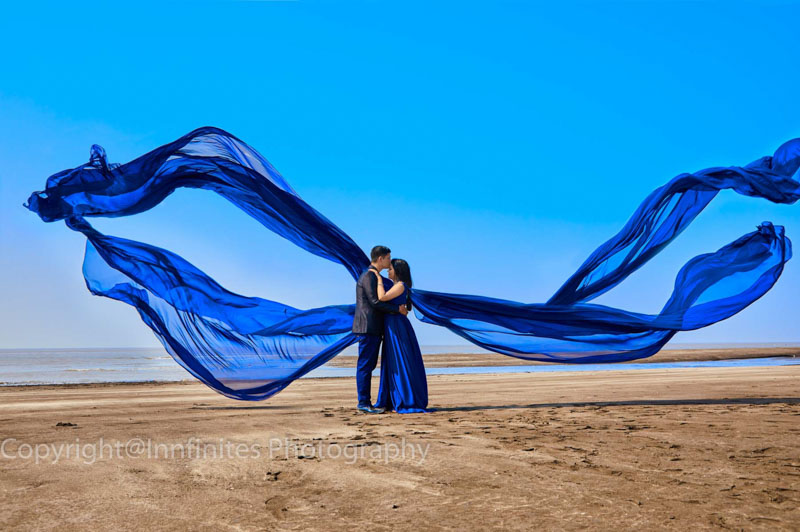 Infinite Photography stands out as the ultimate choice for your pre-wedding photography needs. With a passion for capturing timeless moments and a commitment to excellence, Infinite Photography goes above and beyond to make your pre-wedding shoot an unforgettable experience. Our skilled photographers blend creativity with professionalism, ensuring that every frame tells a unique love story. From picturesque locations to personalized themes, Infinite Photography tailors each session to reflect your unique style and connection as a couple. Trust Infinite Photography to turn your pre-wedding moments into art that you'll cherish for a lifetime.
Pre Wedding Photoshoot In Mumbai & Across Mumbai
PRE WEDDING PHOTOSHOOT ON SETS
Capture the magic of your love story in a cinematic pre-wedding shoot on custom-designed sets. Our pre-wedding shoot on sets is an enchanting experience that allows you to step into your own romantic fairy tale. With carefully crafted backdrops, intricate props, and professional lighting, we create a dreamy atmosphere that perfectly complements your unique love story. Whether you want to reenact your favorite movie scenes, embark on a whimsical adventure, or simply bask in the elegance of our themed sets, our skilled photographers will ensure every moment is beautifully preserved. Let your love shine against the backdrop of our imaginative sets, creating timeless memories that will last a lifetime.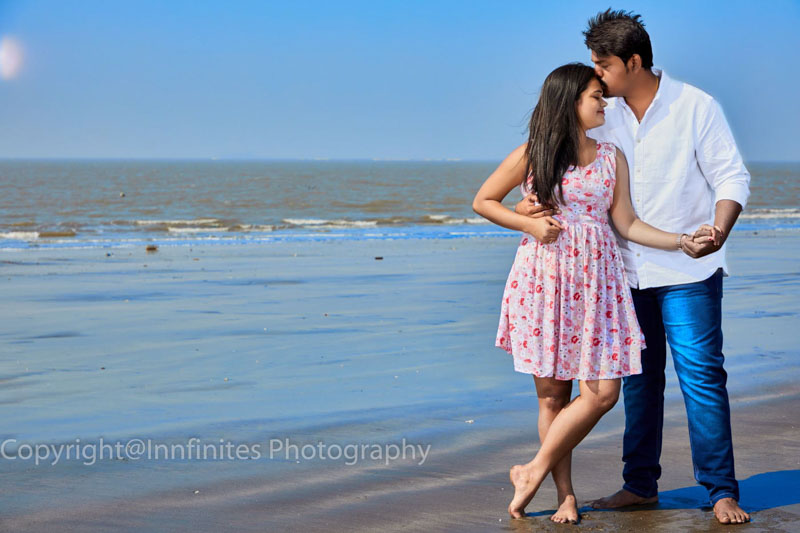 PRE WEDDING PHOTOSHOOT AT LOCAL PLACE
Capture the essence of your love story against the vibrant backdrop of Mumbai's iconic locales with our enchanting pre-wedding shoot experiences. Immerse yourselves in the city's rich culture and heritage as our skilled photographers craft timeless moments in timeless places. From the stunning Marine Drive to the historic Gateway of India, our local pre-wedding shoots in Mumbai promise to frame your love in the heart of the city, creating memories to cherish for a lifetime. Let Mumbai's charm and your love story intertwine in a captivating pre-wedding photo session that celebrates your unique journey. Explore Mumbai, embrace love, and create lasting memories with us.
Our Pre wedding Photoshoot Idea
Package & Pricing Consulting
Step 1
This is first step where our team will guide and explain you about our packages with details. This help you to know exactly which services and benefits you will be getting in the photoshoot.
Pre Photo Shoot Planning & Discussion
Step 2
Planning and discussing before execution is always a great way to start. Here our team will guide you about some do's and don'ts tips so that photoshoot is executed smoothly. Here you can openly discuss and interact with the team in case of any doubt or query.
Your Memorable Photo-Shoot Day
Step 3
Finally most awaited day has arrived. Yes its your photoshoot day. Our professional team will click your beautiful moment and poses. Be comfortable and relax our team will guide you throughout with ease and fun. Put all your worries aside and enjoy the photoshoot.
Final Photos Selection & Sorting
Step 4
Here team will help you to select best out of best photos. You will be given guidance keeping technical and practical factors in mind. After your final selection a code number assign to image will be given to u as proof to avoid any misunderstanding.
Photo Retouching & Editing
Step 5
The photos which u have final will undergo post processing. Here raw photos are converted to processed images which u can later view on your mobile, tv, laptops and other devices. The process image include color, exposure, tonal, white balance corrections with facials skin retouching.
Final Delivery & After Service
Step 6
All final photos will be delivered to you via online link or your personal pen drive. All images will first undergoes proper quality check before delivery.
Our Pre Wedding Photoshoot Studio In Mumbai | Borivali
We have both
Live & Set visit facility
for Pre Wedding photoshoot
Best Pre Wedding & Wedding Photographers In Mumbai
We Provide Pre Wedding photoshoot services in Mumbai and across Mumbai, Thane, Navi Mumbai etc.
FAQs Frequently Asked Question For Pre Wedding Photoshoot
What's is the best time or month to plan my pre wedding photoshoot?
Pre Wedding photoshoot is done preferably before 1to 2 month of wedding.
How soon can I book my pre wedding photoshoot date with Innfinties photography?
For photographer availability of dates are very important. It's always advisable to pre book 2 months in advance so that we can plan and discuss services like dress, location etc. accordingly.
What are set locations for pre wedding photography in Mumbai?
Set location are besting on trending locations which has many multiple set within same location. They provide dress and changing room facility which makes them best choice for client in Mumbai. Each set has its own unique concept and theme which provide good variation in photography.
Which are local location for pre wedding photography in Mumbai?
There are many location in Mumbai like national park, beaches, gate way of India, Asiatic library, kala ghoda, bandstand etc. where we can do pre wedding photoshoot.
Challenges faced during pre-wedding photoshoot at free location in Mumbai?
1)Travel from one location to another and parking issue wastes lots of valuable time.
2)Changing of dress need to done at public and restaurant toilets which is biggest challenges face by clients.
3) Local police some time charges penalty for shoot or won't allow us to shoot. Due to this client gets upset and shoot remain incomplete.
4) Since it's a public location we have no control over crowd. During photoshoot somewhere or sometime people comes in background frame.
What are advantages of Pre wedding Set locations in Mumbai?
1)As all sets are close to each other, so our travel time is saved.
2)They provide complimentary dress changing room facility which is biggest advantage as compared to local location.
3) Sets location comes under private owners, so police don't interfere. Hence shoot can run smoothly without any interruption for anyone.
4) Since sets are private location, they don't allow local (time pass) public to enter set. Only photographers and client who have booked sets are being allowed. Due to which photoshoot can be done smoothly without any disturbance of crowd in background.
Will pre wedding photographer guide us with poses and expression?
Most asked question
Yes definitely our photographer will guide with poses and expressions for your pre wedding photoshoot. Poses, expression and body language is most important aspect of any photoshoot. Our photographer will guide you through your shoot with ease, fun and comfort.
Do you provide Gown and dresses for my pre wedding photoshoot?
Yes, after deal link will be provided where you have an option to buy or rent your pre wedding gowns as per your budget. We will also suggest u best color combination and styles in case if u need our help or suggestions.
Do we require makeup artist or hair stylish for pre wedding photo session?
A debatable topic.
Though 60% face touch up and skin smoothing can be done in editing makeup always wins its own place. If u want unique shoot make up and hair stylish is highly recommended. If couple are having skin tone complex, oily face or boils issue we recommend you to go with makeups.
Do you provide props for pre wedding photoshoot?
Yes, we do provide props for your pre wedding photoshoot. Now a days modern pre wedding photography don't require props as per new trend. You can check at time of deal and package will suggest accordingly.
How professionals are your photographer for pre wedding photoshoot?
Our pre wedding specialist photographers are highly professionals. They undergo training at regular interval to match industrial standards and learn modern techniques. They make you feel comfortable. They have all skills for light camera and action.
Do I get soft copy or album after my pre wedding photography?
Yes, we can definitely provide u album at additional cost (Cost of album depend on pages, size, paper, paddings) of album which we will discuss at time of deal.
Do you travel and provide pre wedding photography service outside Mumbai
Yes, we do travel at outside Mumbai or anywhere across India for pre wedding photoshoot service (Travel cost + food+ accommodation will be charged additionally)
How can I select final pre wedding photos which will be edited?
After every pose photographer will show u photos only once he feels its technically and creatively correct. Then after your approval he will lock the photo for editing. Still if u were not satisfied with the click, retake will be given. During this process photo code number will be provided to you to avoid any confusion in count or selection.
When can I expect final delivery of my photos after completion my pre wedding photoshoot?
Creative stuffs always take time. We usually deliver final edited and retouched photos within 12 to 15 working days.
How will I get my final photo delivered?
a) We usually provide you photos on cloud drive for which link will be provided. You just need to click that link and download your photos.
b) You can also provide your personal hard drive or pen drive to the team on photoshoot day. We will then courier u back once the delivery of photos is ready. (Courier charges are extra)b) You can also provide your personal hard drive or pen drive to the team on photoshoot day. We will then courier u back once the delivery of photos is ready. (Courier charges are extra)
Can we bring our own camera or friend photographer for photoshoot session?
No its not allowed. We work very hard and invest time in upgrading our skills to ensure you get best output. We request you to respect our profession by avoiding not do such activity during the shoot.
I don't want my photograph to be showcase in your website or any social media platform
Honestly its only by showcasing images on online platforms we can get business. Just imaging you will never close deal with us if we don't showcase our ex-client photos. Also, we constantly upgrade our gallery photos so all trending styles and poses we can showcase to our future clients. In any case if u still want that we don't upload your pics u can opt for private photoshoot session for which 40% extra of deal package will be charged. Lastly, we upload pics with our company copyright and watermark to avoid any misuse in future.
I can't come to the studio then how will the shoot happen
Our clients also come from across Mumbai, Navi Mumbai, Vashi, Kalyan,  Dombivali, Vasai, Virar, Thane, Panvel. its a one time pain for a life time memories
For more information on Pre Wedding photographer in Mumbai | Wedding photography services in Mumbai