MATERNITY PHOTOGRAPHERS
IN MUMBAI
Special Discount Offer Available
There is a reason why we are know as one of the Best Maternity Photographers In Mumbai. Just check out maternity photoshoot gallery.
Our Maternity Photographers in Mumbai
We as Innfinites Photography stand for one of the best Maternity Photographers in Mumbai. We have a team of professional maternity photographers in Mumbai who are always there for your help whether it's during the shoot or after. Our clients are important to us and we work very hard to give them the memories they deserve. Maternity photography is one of our favorite subject to photograph and shall be privileged to undertake each and opportunity given to us to document these adorable little souls with moms.
The Maternity photos can create extremely beautiful memories especially for the woman, for whom these golden days are very precious. Our maternity photographer's team captures the beauty and intense emotion of the special time. Pregnancy is a life changing memory for a couple so let's freeze this invaluable memory with best Maternity Photographers in Mumbai, Innfinites Photography.
One Stop Solution For "Maternity Photography Services"
Traditional Photography

Cinematography

Candid Photography

Album

Props
Dress / Clothes
Location
Poses
MATERNITY & BABY SHOWER PHOTOGRAPHY
What makes us "No 1 Maternity Photographers In Mumbai"
Mohini Shekhawat
"It was a great experience. Team of innfinites photography made me feel at ease. I proudly display my pictures (art) in my room. I smile every time I see them. What a great reminder of a joyous time in my life."
Shshank Patra
My wife and I recently had the opportunity to visit Innfinites Photography at short notice in their studio in Borivali to have some maternity photos taken late in our pregnancy.  The session took about 2-3 hours in a pleasant and informal manner, and throughout the whole session, team made us feel extremely comfortable which made the process so much more enjoyable. And the results are beyond expectations.
Nidhi Deshmukh
I had my pregnancy photos done with Innfinites Photography a few weeks back. The experience was very nice and fun. Team was very easy to talk to and knew exactly what would work so felt that we can trust her and leaving a lot of things in good hands. They also gave me the impression that they wants to do the best for us and very much passionate about their work.
Prachiti Shah
You don't want to go anywhere else for your photos. Innfinites Photography is just incredible. Team was absolutely amazing with our little one, they were handling with such care and attention. Honestly the time and effort it must have taken - you just don't get customer service like that anymore! We can't thank you both enough for creating the most amazing memories that we'll keep forever to look back on. Thank you. Prachiti & Sachin
Prem Arora
"The only problem we have encountered is trying to choose our favourites because there are just so many amazing shots" Kartik is a wonderful photographer that we would not hesitate to recommend to anyone.
We have both
Studio & Home visit facility
for maternity photoshoot
Best Maternity Photographers In Mumbai
We Provide services in Mumbai & even Outside Mumbai
Package & Pricing Consulting
Step 1
This is first step where our team will guide and explain you about our packages with details. This help you to know exactly which services and benefits you will be getting in the photoshoot.
Pre Photo Shoot Planning & Discussion
Step 2
Planning and discussing before execution is always a great way to start. Here our team will guide you about some do's and don'ts tips so that photoshoot is executed smoothly. Here you can openly discuss and interact with the team in case of any doubt or query.
Your Memorable Photo-Shoot Day
Step 3
Finally most awaited day has arrived. Yes its your photoshoot day. Our professional team will click your beautiful moment and poses. Be comfortable and relax our team will guide you throughout with ease and fun. Put all your worries aside and enjoy the photoshoot.
Final Photos Selection & Sorting
Step 4
Here team will help you to select best out of best photos. You will be given guidance keeping technical and practical factors in mind. After your final selection a code number assign to image will be given to u as proof to avoid any misunderstanding.
Photo Retouching & Editing
Step 5
The photos which u have final will undergo post processing. Here raw photos are converted to processed images which u can later view on your mobile, tv, laptops and other devices. The process image include color, exposure, tonal, white balance corrections with facials skin retouching.
Final Delivery & After Service
Step 6
All final photos will be delivered to you via online link or your personal pen drive. All images will first undergoes proper quality check before delivery.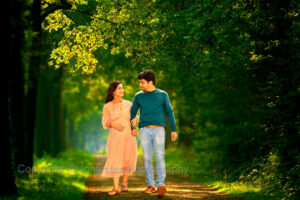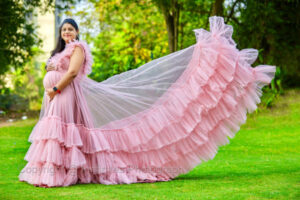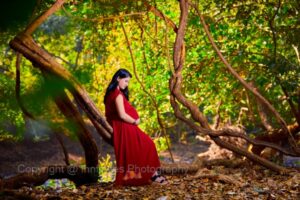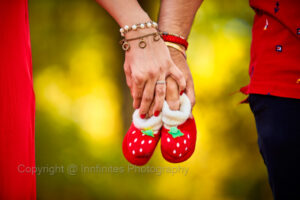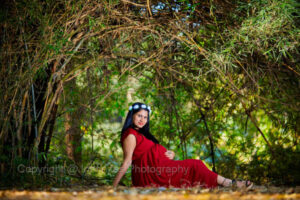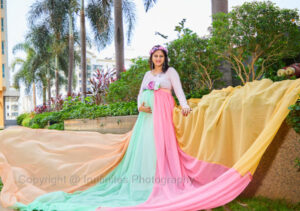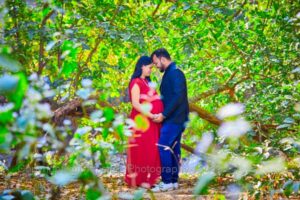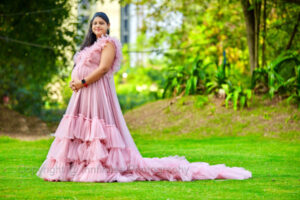 FREQUENTLY ASKED QUESTIONS FOR MATERNITY PHOTOSHOOT - FAQ
What's is the best time or month to plan my maternity photoshoot?
Pre baby shoot can be done in somewhere between 7.5 month to 8.5 month or 32 to 36 week ideally. Once the roundness of beautiful tummy is visible, we can shoot.
How soon can I book my baby bump photoshoot date with Innfinties photography?
For photographer availability of dates are very important. It's always advisable to pre book 2 months in advance so that we can plan and discuss services like dress, location etc. accordingly
Can I include my husband, children & family in photo session?
Yes definitely you can include your husband, children & Family without paying anything extra (0 cost). But its recommended you involve family is last 30min of the shoot after our approval.
Which one is best option Indoor maternity photoshoot or outdoor maternity photoshoot?
Totally depends on client taste and requirements. We personally suggest outdoor maternity shoot as background and lightings will be natural. If u want photoshoot against backdrops and studio lights indoor maternity shoot is best option.
Which are best location for outdoor maternity photography in Mumbai?
Location plays one of the key role for maternity photoshoot. We always suggest you to find location near by your home for travel safety. Near by garden, parks resorts are always good idea to maternity photoshoot. Apart from these there are special location like sets which will suggest you once we make a deal.
Is pre baby photoshoot, pregnancy photoshoot and baby bump photoshoot same?
Yes, they are all different name with same meaning which means maternity photoshoot.
Where is your Maternity photoshoot studio located?
We are located in Mumbai, Borivali west (5 mins from Borivali railway station)
Will maternity photographer guide us with poses and expression?
Most asked question
Yes definitely our photographer will guide with poses and expressions for your maternity photoshoot. Poses, expression and body language is most important aspect of any photoshoot. Our photographer will guide you through your shoot with ease, fun and comfort.
Do you provide Gown for my maternity photoshoot?
Yes, after deal link will be provided where you have an option to buy or rent your maternity gowns as per your budget.
Do we require makeup artist or hair stylish for maternity photo session? A debatable topic.
Though 60% face touch up and skin smoothing can be done in editing makeup always wins its own place. If u want unique shoot make up and hair stylish is highly recommended. If couple are having skin tone complex, oily face or boils issue we recommend you to go with makeups.
Do you provide props for maternity photoshoot?
Yes, we do provide props for your maternity photoshoot. Props like umbrella, cut-outs, ribbon, baby shoes, teddy etc. will be provided.
How professionals are your photographer for maternity photoshoot?
Our maternity photographers are highly professionals. They undergo training at regular interval to match industrial standards and learn modern techniques. They make you feel comfortable. They have all skills for light camera and action.
Do I get soft copy or album after my pregnancy photography?
Yes, we can definitely provide u album at additional cost (Cost of album depend on pages, size, paper, paddings) of album which we will discuss at time of deal.
Do you travel and provide maternity photography service at home?
It Depends on situation date and your location. But Yes if you are not comfortable for travelling at our studio, we do travel at your home for maternity photoshoot service. (Travel cost + Home visit service charge will be at additional cost.)
How can I select final pregnancy photos which will be edited?
After every pose photographer will show u photos only once he feels its technically and creatively correct. Then after your approval he will lock the photo for editing. If still u are not satisfied with the click retake will be given. During this process photo code number will be provided to you to avoid any confusion in count or selection.
When can I expect final delivery of my photos after completion my maternity photoshoot?
Creative stuffs always take time. We usually deliver final edited and retouched photos within 12 to 15 working days.
How will I get my final photo delivered?
a) We usually provide you photos on cloud drive for which link will be provided. You just need to click that link and download your photos.
b) You can also provide your personal hard drive or pen drive to the team on photoshoot day. We will then courier u back once the delivery of photos is ready. (Courier charges are extra)
Can we bring our own camera or friend photographer for photoshoot session?
No its not allowed. We work very hard and invest time in upgrading our skills to ensure you get best output. We request you to respect our profession by avoiding not do such activity during the shoot.
I don't want my photograph to be showcase in your website or any social media platform
Honestly its only by showcasing images on online platforms we can get business. Just imaging you will never close deal with us if we don't showcase our ex-client photos. Also, we constantly upgrade our gallery photos so all trending styles and poses we can showcase to our future clients. In any case if u still want that we don't upload your pics u can opt for private photoshoot session for which 5000 extra above deal package will be charged. Lastly, we upload pics with our company copyright and watermark to avoid any misuse in future.
For more information on Maternity photographer in Mumbai | Maternity photography services in Mumbai